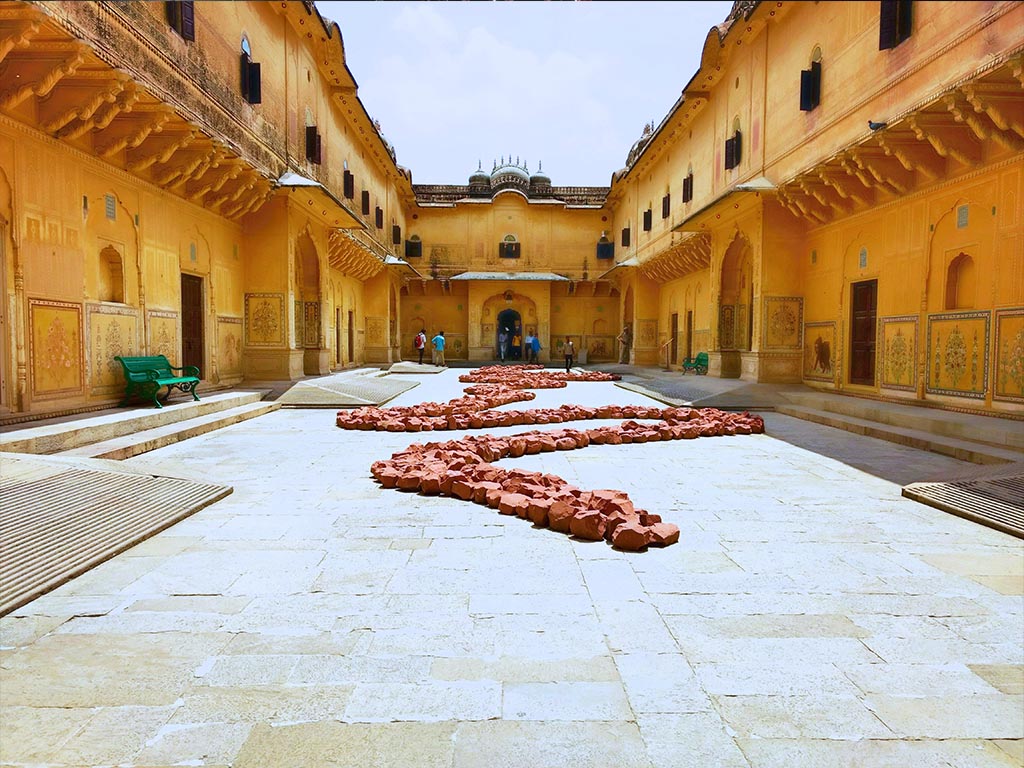 You can't help but get an eerie feeling as you drive uphill through crumbling gateways to this 18th century fort. Much less frequented than Amer Fort, Nahargarh has a deserted look, but offers brilliant views of Jaipur down below. During the day you can explore the courtyards and living quarters once used by the Jaipur royals. On a winter evening you can watch a spectacular sunset as Jaipur turns into a lake of lights. The walls of Nahargarh, with those of Amer and Jaigarh forts, form a ring of fortifications around Jaipur.
Curious to know more…


Nahargarh was mostly built by King Sawai Jai Singh II of the Kachchawa Rajput dynasty of Amer in the 1730s. Originally named Sudarshangarh or the "good-looking fort" it was later known as Nahargarh. This name could have come from the tigers called nahar in the local language that freely roamed in the area years ago. But a curious local legend suggests it was renamed Nahargarh after a local chieftain Nahar Singh Bhomia whose spirit haunted the area and kept destroying the fort as it was built. A shrine was built in his honour where Nahar Singh could rest and the fort was completed without further hitches.
How to get there?


Nahargarh Fort is around a 45-minute drive from the area around City Palace in Jaipur. Book a cab for a day to see the fort and other nearby sites.
There are direct flights to Jaipur from major Indian cities like Delhi, Mumbai, Bangalore, Kolkata, Chennai and Hyderabad as well as trains.
The NH8 connects Jaipur to Delhi. Air-conditioned buses ply regularly on this route. You could also hire a car.
Plenty more to HopOn near Nahargarh…

On the way to Nahargarh Fort from Jaipur you can't miss the Jalmahal. Built as a retreat for the maharajas it is partially submerged in the Man Sagar Lake making for a magnificent photo op. The majestic Amer Fort along with its neighbour the Jaigarh Fort is easily done in a day's trip from Jaipur along with Nahargarh if you are up to doing three forts in a day. In Amer, make sure not to miss the Jai Mandir or Hall of Victory with inlaid wall panels and a mirrorwork ceiling and the massive Jainava cannon in Jaigarh.

You shouldn't miss…
Shopping in Jaipur's Pink City's bazaars which offer a wide variety of local textiles, dresses, saris, jewellery as well the popular Jaipuri razai – a light quilt with block printed patterns. Also check out the City Palace and its museum galleries that display artefacts, clothing and weaponry to get a glimpse of royal Rajasthan. HopOn India's Royal Rajasthan walk guides around these sites. If you are up for day trip you can visit Ajmer, about 131 kilometres away which is home to one of India's most popular Sufi shrines. The dargah of Moinuddin Chishti draws hundreds of pilgrims daily.
Have a Doubt?

If you have questions, mail us at contact@hoponindia.com
Been there, Share your story…