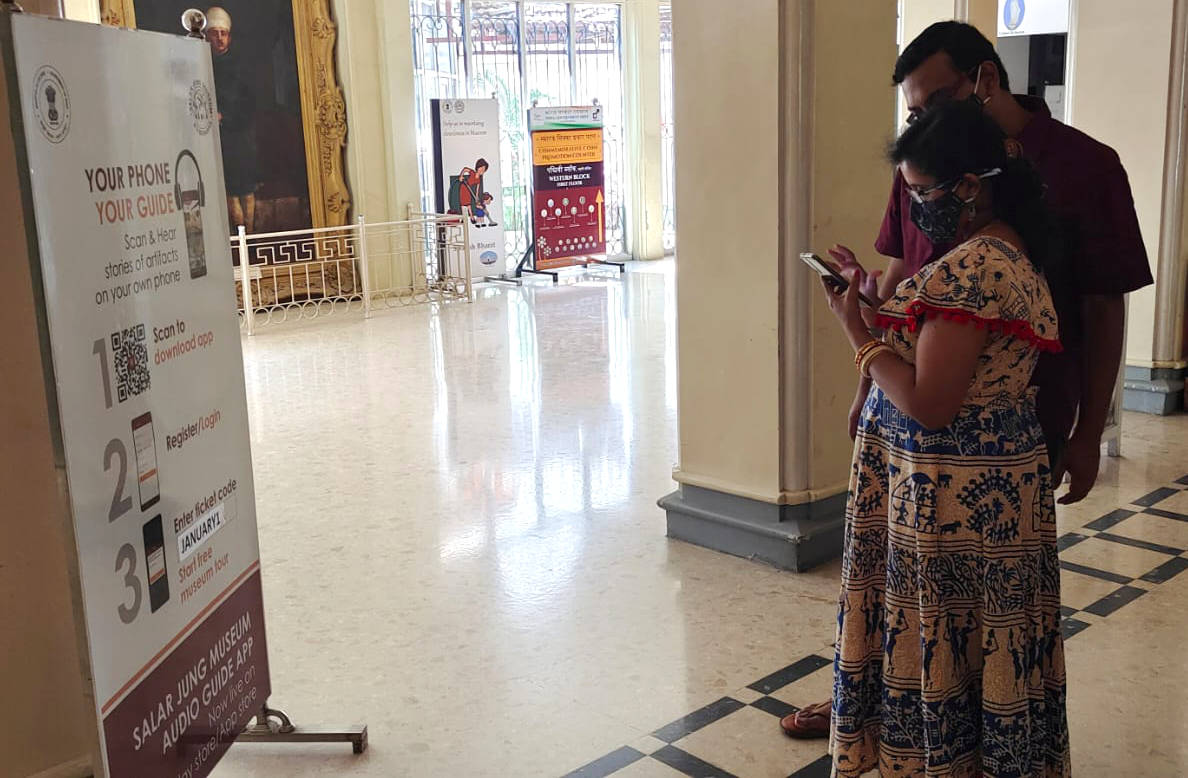 Dr. A.Nagendra Reddy, Director, Salar Jung Museum, Hyderabad is a museum veteran and a thought leader in the space of Indian heritage and culture. He has implemented some award-winning initiatives and practices at the Salar Jung Museum during his tenure. The list of awards includes Traveller's Choice Attractions Award by Tripadvisor and Certificate of achievement by the Art Institute of Chicago among many others. Through this blog, he talks about the digital journey of museum.
A museum is a powerhouse of creative expression that spans over centuries and the Salar Jung Museum is no different. Our museum is an eclectic family collection of 46,000 objects spread across 39 galleries in three buildings. The collection has been segregated broadly into Indian, Middle Eastern, Far Eastern, European and Children's Sections. The thousands of extraordinary artefacts, some even dating back to the 18th century, showcase the skills of craftspeople across ages and continents and give a glimpse of a bygone era. But there is nothing fusty about our museum and we've always had all modern amenities for visitors.
When the pandemic struck and visitors stopped coming to the museum, we were challenged to look at creative and modern ways to take the museum beyond its walls. While our earlier focus was always on ways the visitor would experience the physical space of the museum, now we also wanted to provide an experience of our assets online to patrons sitting at home.
We wanted to work out a solution that would make our collections accessible to everyone, regardless of their location, language and incapacities. We decided to have a digital solution that would be simple for the user to navigate and operate. We were keen that whatever we adopt should also continue to facilitate our visitor engagement beyond COVID.
An audio-visual mobile application seemed to be the most suitable solution. While we began discussions on the app, there were some points of concern- Will the visitors be ready to download an app? Will the visitors be prepared to use their smart phones as audio devices? Will the museum Wifi be efficient enough to handle the task? How will people know about the app? At the same time, we wanted to factor in scalability and multilingual content hosting in whatever we did.
With some certainty and few ambiguities in our mind we launched our Salar Jung Museum Audio guide app. We also planned a QR code scanning solution to enable the visitor to 'hear and now'. We put up the QR codes next to listed objects in the galleries. Through these we wanted to give accessibility to those who could not or did not want to download an app.
It has been a few months since visitors started using our app. We have some good learnings now and can say that our doubts are resolved. Digital tools, we feel, are able to add multiple layers through various channels to the visitor experience, both on line and on site. New efficient opportunities of audience engagement have been discovered and we are encouraged to scale up the solutions. We are looking forward to receive some substantial insights into visitor behaviour through our app and improve our engagement strategies.
We have also introduced other facilities like online ticket booking and have been actively circulating information about our collections to our patrons through social media. The social media has helped us maintain a community connect in times of lockdown and beyond. We seem to have been more successful in reaching the younger audience through these new mediums.
The outcome of our efforts has been heartening and we plan to continue these efforts to reach out to a wider audience and deepen our engagement with the community.
Do take a sneak peek into the Salar Jung Museum Audio Guide App:
Play Store: https://play.google.com/store/apps/details?id=com.hoponindia.salarjung
App Store: https://apps.apple.com/us/app/salar-jung-museum-audio-guide/id1573225219
Click on your Phone: https://salarjung.hoponindia.com