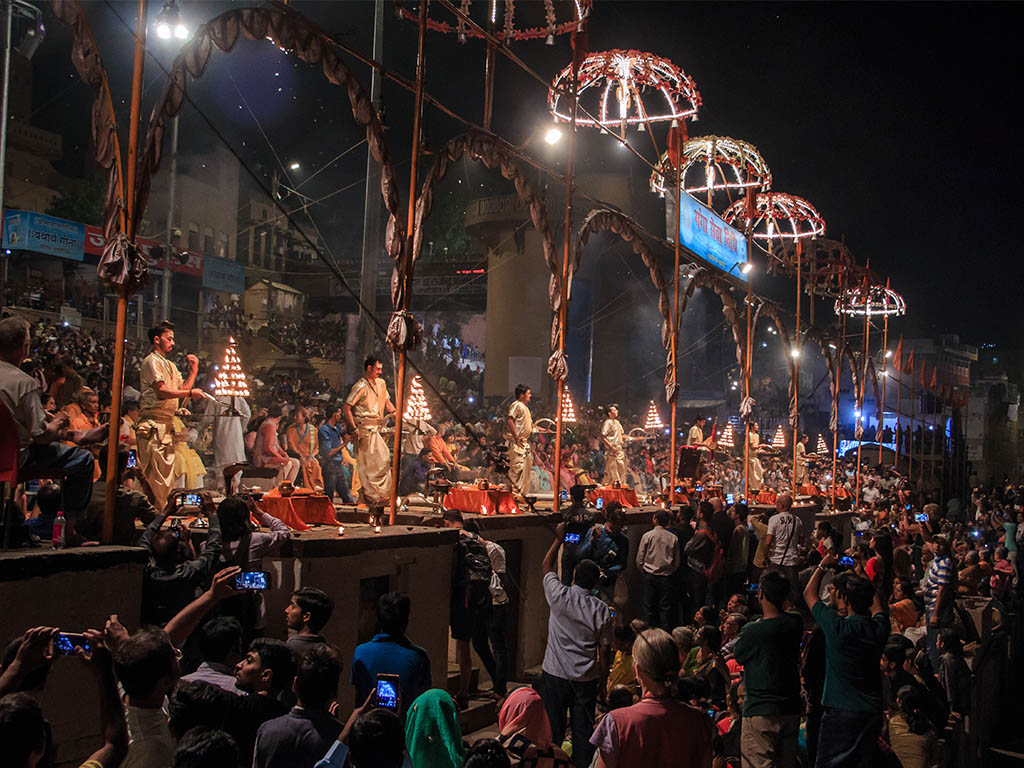 Priests and sanyasis; flower sellers and persistent boat owners; a kaleidoscope of Hindu pilgrims bathing in the holy Ganga – Varanasi's Dashashwamedh ghat will remain an indelible stamp on your memory. Watch the sunrise from steps of the ghat and catch the pulsing, spectacular evening aarti – when priests chant ancient hymns to the ringing of bells and blowing of conch shells in a ritual worship of the river Ganga. You cannot but be touched by the divinity of this ancient temple town.
Curious to know more…

Hindus believe those who die in the holy city of Varanasi go straight to heaven, breaking the cycle of birth, death and rebirth. Thousands of ailing and aged come here every year, hoping to breathe their last on the banks of the holy river Ganga. Dashashwamedh ghat is considered the holy city's holiest spot. Ten (das in Hindi) horses (asva) are believed to have been sacrificed (medh) here by the Hindu god of creation Bramha giving the place its name. The elaborate evening Ganga worship ceremony (aarti) is held every day at 7 pm.


How to get there?

Varanasi airport has flights to and from all major Indian cities including Delhi and Mumbai. A cab into town takes about half an hour.
Daily trains run to Varanasi from all major cities in India. There are several trains to Delhi.
Private and state-run buses ply to Varanasi daily from nearby cities.
Within Varanasi you can take an autorickshaw, a cycle-rickshaw or walk to a point near the ghats including Dashashwamedh. Boats are available for hire for a ride along the river.

Plenty more to HopOn Near Dashashwamedh Ghat…
The several ghats along the Ganga, including Dashashwamedh, and the old quarters of the city are linked through lanes leading to a series of steps and there's plenty to explore. Manikarnika Ghat, one of the two burning ghats in Varanasi where the dead are cremated has funeral pyres burning at all hours and priests performing last rites. It's best to view this ghat from a boat which you can take from Dashashwamedh Ghat. A boat tour is a great way to view all the ghats. Explore the nearby Vishwanath Gali for a breakfast of kachoris and jalebis. At the end of the gali is the golden-domed Kashi Vishwanath Temple dedicated to Lord Shiva. HopOn India offers a walking tour of the lanes and ghats that includes some iconic food joints.
You shouldn't miss:
If you are in Varanasi, try to fit in a visit Sarnath where Gautam Buddha delivered his first sermon. It's just 10 kms away and cabs, autos and buses are available to take you there. Several relics from Emperor Ashoka's reign including remains of a stupa and monasteries can be seen at Sarnath. The local museum is a treasure trove of Buddhist sculpture and inscriptions. HopOn India offers a comprehensive audio tour of Sarnath.
A visit to Varanasi is not complete without a walk through the Madhepura area, home to weavers whose rich silk Benarasi saris shot with gold and silver are India's most popular bridal wear.
Have a Doubt?

If you have any questions write to us at contact@hoponindia.com
Been there, Share your story…