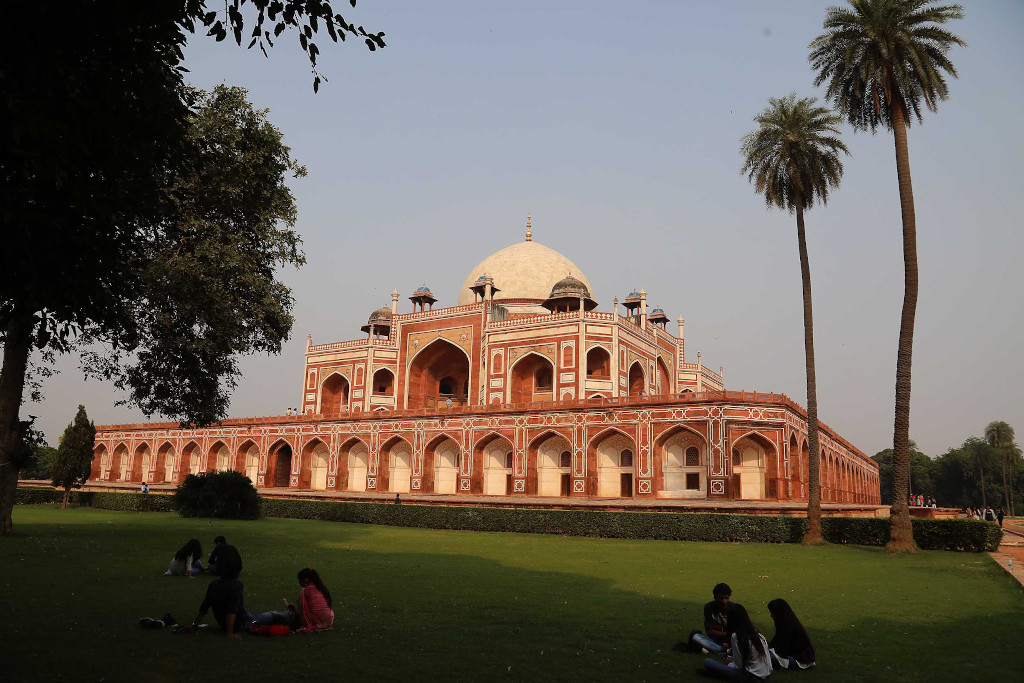 Humayun's Tomb, a grand mausoleum for the second Mughal Emperor Humayun, is poetically referred to as his 'Last Refuge'. This towering structure on a 7 meters high stone platform is situated between sprawling gardens that spread across 2,16,000 square meters in the heart of Delhi city. It has been a UNESCO World Heritage Site since 1993 and was further restored closer to its original glory by the Aga Khan Trust for Culture in 2013 after six years of intense restoration work. A tranquil ambience pervades throughout the complex and you can expect to spend some peaceful time exploring the tomb and walking through its gardens, as it does not witness the usual crowd of visitors like other monuments and parks in the city. Once in a while, groups of school children or young adults infuse life into the solemn surroundings.
Historically, the Humayun's Tomb has great significance as the first garden-tomb to be constructed by the Mughal dynasty and eventually went on to inspire the design of the Taj Mahal. The mausoleum's architecture is a mix of Persian and Indian traditions, and the gardens around it are an example of the charbagh style with four quadrants and the four rivers of paradise represented through water channels running between them. Over 150 Mughal family members are buried in this complex and owing to the high number of graves, Humayun's Tomb is also called the "dormitory of the Mughals".
The gardens are the perfect setting for a long-walk, a day out sketching or a picnic with your friends and family. It is possible to carry a packed lunch, while ensuring that no waste is left behind in the complex. Depending on your interest, it is possible to spend anything from 30 minutes to more than 3 hours at Humayun's Tomb.
Reaching Humayun's Tomb is easy from all parts of the city. It is centrally located in the capital city of India, and is surrounded by an active network of roads and the metro rail. The closest bus stop is Dargah Hazrat Nizamuddin on the Mathura Road, with almost 40 buses connecting it to different parts of the city. The closest metro station is the Jawaharlal Nehru Stadium on the Violet line. Humayun's Tomb is also very easily accessible using auto-rickshaws and app-based taxi services. There are some interesting places around, which you can also visit when you are at the Humayun's Tomb. The Sundar Nursery is adjacent to this mausoleum complex and is a 16th century heritage park formerly called the Bagh-e-Azeem. It is spread across 90 acres and is an oasis of calm and colours. The Nizamuddin Dargah, the shrine of the respected Sufi saint Nizamuddin Aulia, is across the road from the Tomb complex and must be visited especially on Thursday evenings for the breathtaking sounds of qawwali music. The National Zoological Park and the Purana Quila are also in the vicinity.